Frank Lawrence, owner of Bobby Jones Ford-Lincoln, presents a Josey high school jersey to Bennie Fowler, an alumnus, during Fowler's homecoming visit to Augusta. Fowler is Group Vice President for Global Quality and New Model Launch for the Ford Motor Co.
Quality is Job One at Ford. It's a company catch-phrase that means a lot to Bennie Fowler.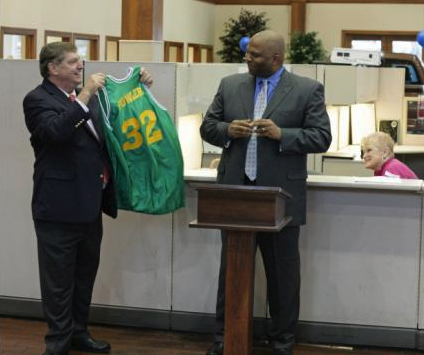 Managing the quality of Ford cars and trucks throughout the world is the job of this Augusta native, who made a homecoming Tuesday and visited an Augusta dealership.
Fowler, the group vice president for global quality and new-model launch for Ford, attended a meet-and-greet with the Bobby Jones Ford-Lincoln staff.
"Our quality has surpassed Toyota and Honda for the first time ever," said dealership owner Frank Lawrence. A lot of that success involves Fowler, he said.
Fowler was vice president of global quality from 2006 until his promotion in March 2010. He has been with Ford since 1990 and has served in leadership roles overseeing Jaguar, North American product development and engineering vice president.
Last year's elimination of Mercury didn't cause sadness, Fowler said.
"The feeling at headquarters right now is that we are dedicated and focused on Ford. We simplified our lineup, and it has really given us a great focus," Fowler said.
Unlike its major Detroit-based competitors, Ford didn't file bankruptcy and get a federal government bailout to survive the recession. Fowler said the company pulled itself up by its own bootstraps.
"We worked a lot on our product plan," Fowler said. "And I think working on getting our synergies for Ford around the world was really the right strategy for us. It is starting to pay dividends."
Ford last month announced plans to boost hiring, about 7,000 workers over the next two years.
Fowler, a graduate of T.W. Josey High School, spends time overseas now.
"We're launching the new Ranger in Thailand and South Africa," he said.
Fowler will speak at Josey this morning as part of the school's Black History Month event.